Notícies
> "Accents, the voiced or voiceless 's' and neutral vowels are among the most common mistakes, when it comes to writing in Catalan"
"Accents, the voiced or voiceless 's' and neutral vowels are among the most common mistakes, when it comes to writing in Catalan"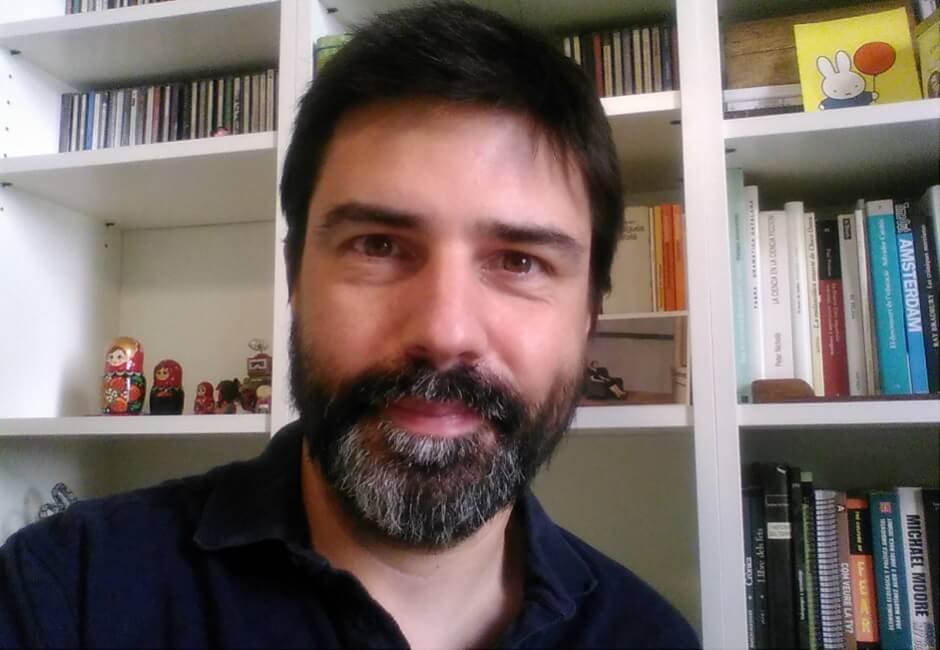 Xavier Breil is a high-school Catalan teacher. Needing to improve his students' spelling and having detected and classified the most common mistakes, he created Dictapp to help teachers and students work on spelling inside and outside of the classroom.

Xavier Breil is a high-school Catalan teacher. Needing to improve his students' spelling and having detected and classified the most common mistakes, he created Dictapp to help teachers and students work on spelling inside and outside of the classroom.
Xavier, tell us what Dictapp is all about…
Dictapp is an online app to work on Catalan spelling either individually or with the guidance of a teacher in the classroom. It automatically corrects dictations. It does not just show the teacher the mistakes each student makes, but identifies them to draft a profile that can track the student's evolution and level. It then suggests suitable activities in line with the profile and also from different educational approaches (working on the basis of visual memory, mechanical repetition, rule-based reasoning or observation and detection of mistakes in public texts), because the app aims to adapt to the style of the teacher rather than make the teacher adapt to the app. Technically, it is very simple and versatile, because it can operate on any device (computer, tablet, smartphone) or system (PC, Apple).
How did the project come about?
Dictapp developed out of day-to-day spelling work in the classroom. I am a high-school Catalan teacher and I know that spelling is an ongoing headache for teachers. I began by classifying student errors and saw that this had some results. I thought it was a job that lent itself to automation, where you could harness digital technology to do something that would be truly helpful by letting it do the more mundane part of the job and freeing up time for the teacher to focus on the more involved and specialised work that a machine cannot do. It could also help make something that people always talk about, but which for a teacher is very hard to put into place, actually come true, i.e., having personalised work for each student (part of "meeting diversity"). I searched around and found there was nothing out there like it and, because I had had some experience publishing online and offline educational material, I decided to go for it.
I then started to bring onboard people who could be critical to the project: on the one hand, my partners, Anna Domènech and Parfait Atchadé, who are essential and, on the other hand, other people close to me, who have helped out in numerous ways.
Who is on the Dictapp team?
At the heart of the project are the three partners, Anna Domènech (responsible for communications), Parfait Atchadé (responsible for technical management) and myself (responsible for content and commercial matters).
A great many other people close to us, by which I mean family and friends, have helped out in various different ways over the two years that the project has been live, working in areas like design, voice-overs, running in-class tests and so on, as well as a technical team that programmes the app. These people are Catalan, too. And altogether we have ended up forming a small team. You could say it is a locally sourced app.
Who is Dictapp aimed at?
Anyone who wants to improve their spelling. It could be children from the senior primary-school years through to adults of any age. It can be used both in official education settings (with teacher supervision) and self-directed, individual learning.
Is it an app to learn Catalan or to improve it?
If you consider that a person only starts to worry about the way a language is spelt once they i have mastered some of the other, more basic stuff, I would say that it is to improve it, but its use can kick in at fairly low levels.
What are the most common mistakes people make, when it comes to writing in Catalan?
That was the investigative work we did before designing the app. We ended up sorting the mistakes into 15 categories, which is the ones the mistakes in the dictations and the improvement activities are classified into. I will not go into them all, but suffice it to say that they include accents, the voiceless or voiced 's' and neutral vowels.
Do you think good use is being made of Catalan online?
It depends on the medium and the sphere. It is a bit like what is happening with Catalan in other fields, as a graph published the other day showed. There are always going to be some people who are more concerned about accuracy than others; that is usually linked to the value each person places on language as a cultural phenomenon. The nature of the Internet (easy access, immediacy, lack of filters, etc.) means that it has a lot of published content that has not been checked by a language professional, and it shows. Then there is the whole question of abbreviations, emoticons and so on, although that is probably restricted to informal communication. In any case, one thing is true: in the app, we propose an activity that involves finding mistakes in public uses of the language, and the Internet is a goldmine in that area. Of course, there are other areas, too, like shop signs and supermarket posters.
Why did you opt for the .cat domain?
In our case, of an app that works with the Catalan language, it was clearly the best and most logical choice. We understand that .cat is the domain that brings the online presence of Catalan together, so, of course, we wanted to be part of that.