Notícies
> Fundació puntCAT celebrates the awards ceremony of the 9th Webs al punt.cat contest
Fundació puntCAT celebrates the awards ceremony of the 9th Webs al punt.cat contest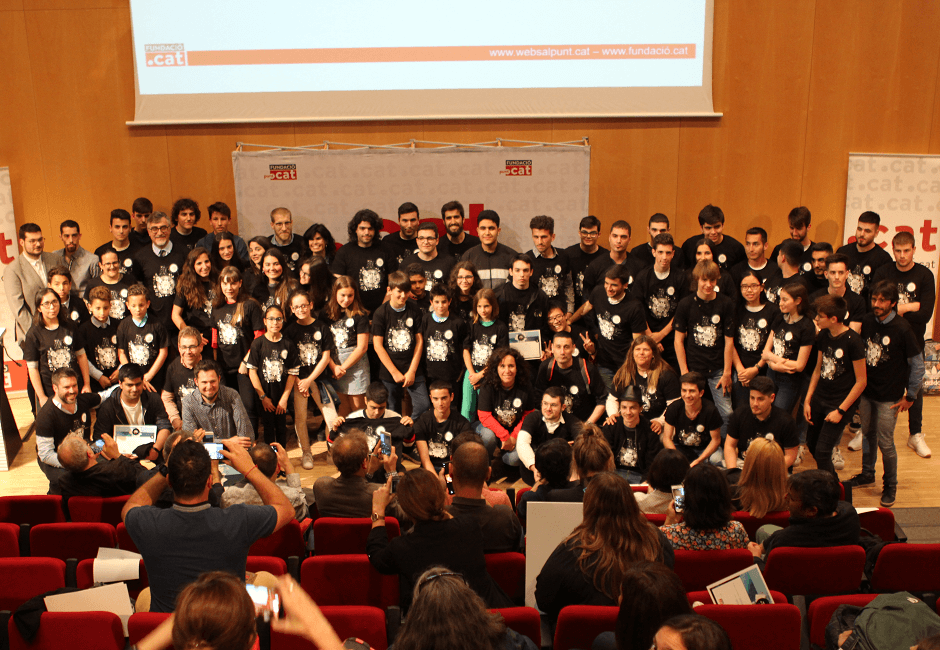 On 21 May, the awards ceremony of the 9th Webs al punt.cat contest was held, a project that promotes digital creation among 5th- and 6th-grade Primary, Secondary, Grammar and Vocational Training students

On 21 May, the awards ceremony of the 9th Webs al punt.cat contest was held, a project that promotes digital creation among 5th- and 6th-grade Primary, Secondary, Grammar and Vocational Training students.
During the morning all finalists were able to present the projects to the jury and then enjoy a visit to the CosmoCaixa facilities. In the afternoon, Mariola Dinarès hosted the awards ceremony, and the classification of each category was announced.
Fundació puntCAT is already starting to prepare next year's edition, which coincides with the contest's 10th anniversary, and we want it to be a very special edition.
Below we share with you the classification of the 2019 Webs to punt.cat contest
5th- and 6th-grade Primary School:
First-ranked
Grupuntcat Group with the grupuntcat.cat domain from the L'Arrabassada School in Tarragona
Second-ranked
Els informàtics Group with the elsinformtics.cat domain from the Josep Barceló i Matas School in Palafrugell
Third-ranked
Edison Group with the thomasalvaedison.cat domain from the La Portalada School in Altafulla
Secondary School:
First-ranked
Un abans i un després Group with the unabansiundespres.cat domain from the Gurb Institute
Second-ranked
#PARLEM Group with the totdonuts.cat domain from the Pere Vives Vich Institute School in Igualada
Third-ranked
DelegatsTAC Group with the delegatstac.cat domain from the Narcís Oller de Valls Institute
Grammar School and Middle Vocational Training:
First-ranked
3B Group with the daktilashop.cat domain from the Montsià Institute in Amposta
Second-ranked
2 TICII Group with the solaria-shop.cat domain from the IES Josep Maria Llompart in Palma de Mallorca
Third-ranked
TochisimoWeb Group with the tochisimoweb.cat domain from the Lliçà INS in Lliçà d'Amunt
Higher Vocational Training:
First-ranked
Yenom Group with the yenom.cat domain from the Montilivi Institute in Girona
Second-ranked
racisme Group with the racisme.cat domain from Gimbernat Formació in Sant Cugat del Vallès
Third-ranked
ASIX1B – Grup D Group with the evamascarell.cat domain from the Montsià Institute in Amposta
Fourth-ranked
CDrone1 Group with the compocat.cat domain from the Pia School in Mataró
Mobile phone apps:
First-ranked
ibc_aquia Group with the findtheword.cat domain from the Baix Camp INS
Second-ranked
Kalisthenics Group with the kalisthenics.cat domain from the Nicolau Copèrnic Institute
Third-ranked
ibc_Schrodinger's Devs Group with the catsandchests.cat domain from the Baix Camp INS
Fourth-ranked
Rehabilita't Group with the rehabilitat.cat domain from the Nicolau Copèrnic Institute
The winners of the popular vote are:
viuresol Group with the viuresol.cat domain from the Pia School in Mataró
The winners of the prize for the class with the greatest participation are:
Pia School in Igualada
The winners of the prize for the class with greatest gender equality are:
La Portalada School in Altafulla
The winners of the prize for "Improve your school website" are:
Nova B3 Group with the novab3.cat domain from the Bemen 3 School