Notícies
> "If you are not on the Internet today, you are at a disadvantage, when it comes to your competitors"
"If you are not on the Internet today, you are at a disadvantage, when it comes to your competitors"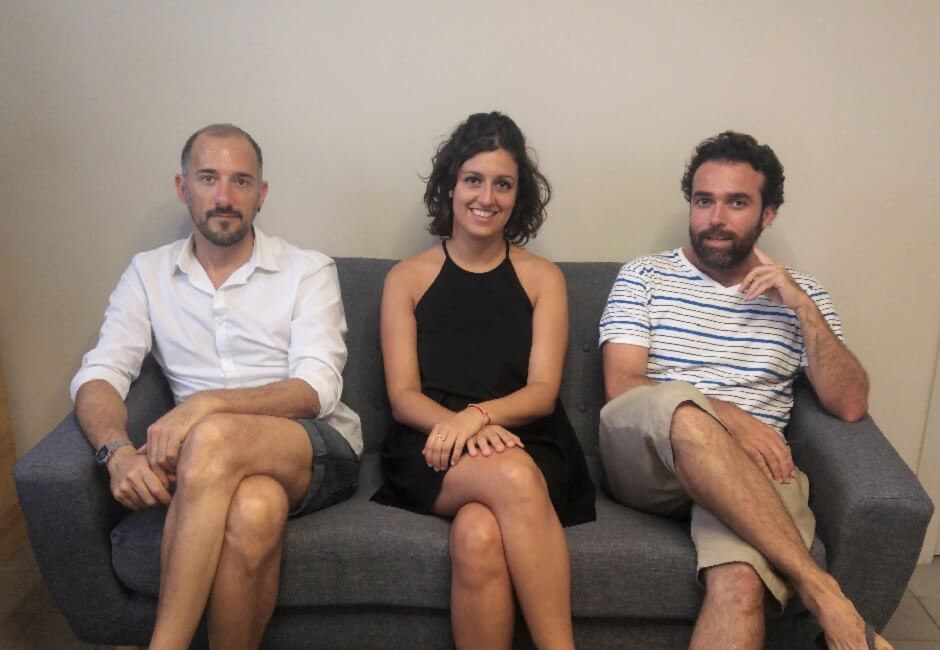 We interview Josep Armengol and Arnau Miquel, founders of L'hort de Sant Agustí, and Gemma Caihuelas, the manager of the coworking community and space. L'hort de Sant Agustí is a coworking space in Gràcia made up of creative types from across different industries.

L'hort de Sant Agustí is a coworking space in Gràcia made up of creative types from across different industries. Operating out of the second floor of the Sant Agustí building, it is also a community with a collaborative philosophy and which respects the natural pace of things. It promotes grassroots social relations and aims to be fertile soil for generating life through synergies, projects and actions to develop skills and know-how.
How did L'hort de Sant Agustí come about?
At the start, it was just a share space for four studios. The person who was responsible for the premises at the time was going abroad for personal reasons and handed over the control of the ship to us. In order to be able to pay the costs of the premises, we decided to turn it into a coworking space.
At first, it was tough combining the creation of the brand and learning about community management and coworking with our activity, but we slowly turned it around and we now draw on different professional profiles and can access a more extensive range of projects.
It was also during this time that we created a street-level pop-up space in the Sant Agustí building called La Parada to showcase the talent of our community.
What sort of companies do you have at the space?
There is room for about 40 people. We are mostly freelancers, entrepreneurs, small enterprises and studios working in a creative industry.
In addition to coworking, you perform other activities too, do not you?
Because the space is called L'hort (vegetable garden), we dub the activities "the crop". They all foster learning, cooperation and people/space relations, which are the most important and valuable aspects of the project that we have called "the incubator".
We distinguish between three types of activities: "Tools", which are basically training and hands-on workshops in courses, such as design, English and visual thinking, among others.
"Seeds", which is the knowledge-sharing space promoted by the people in the incubator: talks, conferences or simply exhibitions of personal projects to harness different opinions.
Finally, we have "the ditch", which covers the more leisure-based activities: dinners, cocktails, after-work events and city breaks. Here the aim is to foster teamwork and generate complicity among the space's members.
Most of the activities are also aimed at people from the city, and we often publish them on posters in different stores around the neighbourhood. The members enjoy significant discounts on the activities that are not free.
What are the professional benefits of working in a coworking space?
It gives you the chance to make new contacts and grow your business directly, as you have a series of professional services and profiles you can draw on. That is why we try to find profiles that complement the ones we already have.
You can benefit from facilities that have been designed for comfortable work and to promote inter-personal communication, while presenting a good professional image for customers. On top of all that, there is a series of optimum professional services – and all at a low, flat-rate cost.
How do you think that having an online presence with your website and social networks helps you?
We think it is essential to our business model. Besides word of mouth, which always works well, most of the people interested in forming part of our community have come to us from the website.
Thanks to the help of some of the space members who specialise in positioning, we are slowly finding our place on the Internet.
You have many courses aimed at developing an online presence. Do you think this is a necessary step for all sorts of businesses?
We think that, if you are not on the Internet today, you are at a disadvantage, when it comes to your competitors. No matter how well you work, if you do not get your message out there to as many people as possible, you will very likely be losing opportunities to grow your business, although we strongly believe that it is more important to have quality content than be big online without any basis or a clear goal and strategy.
Why did you opt for the .cat domain, when it came to making your website?
One of the features that sets our coworking space apart from many others in Barcelona is that it promotes culture, proximity, local commerce and sustainability. Outreaching in Catalan helps us convey these values and, to our surprise, has generated a great deal of interest, especially among the foreign community. That is why we chose the .cat domain.